A consultative approach to Financial Planning. This includes more THAN the assets that you have and the insurance you use to protect it. This model is a year-long contract dedicated to your entire financial picture- not just focusing on wealth accumulation and risk management.
This model is best suited for families, individuals, and/or business owners who desire guidance on how the six key areas affect each other and work together to complete a financial plan.
Is Your Financial Team Missing a Key Component?
In addition to your CPA, estate attorney, and tax attorney, you should have a trusted resource to help develop strategies to manage your wealth with a more hands-on approach. We are a team of professionals who like to see the full picture, while also helping you put the smaller pieces together. 
Whether you are looking for an on-going financial planner or looking for a financial professional to help develop strategies for managing your wealth, we can serve in the capacity that is appropriate for your situation.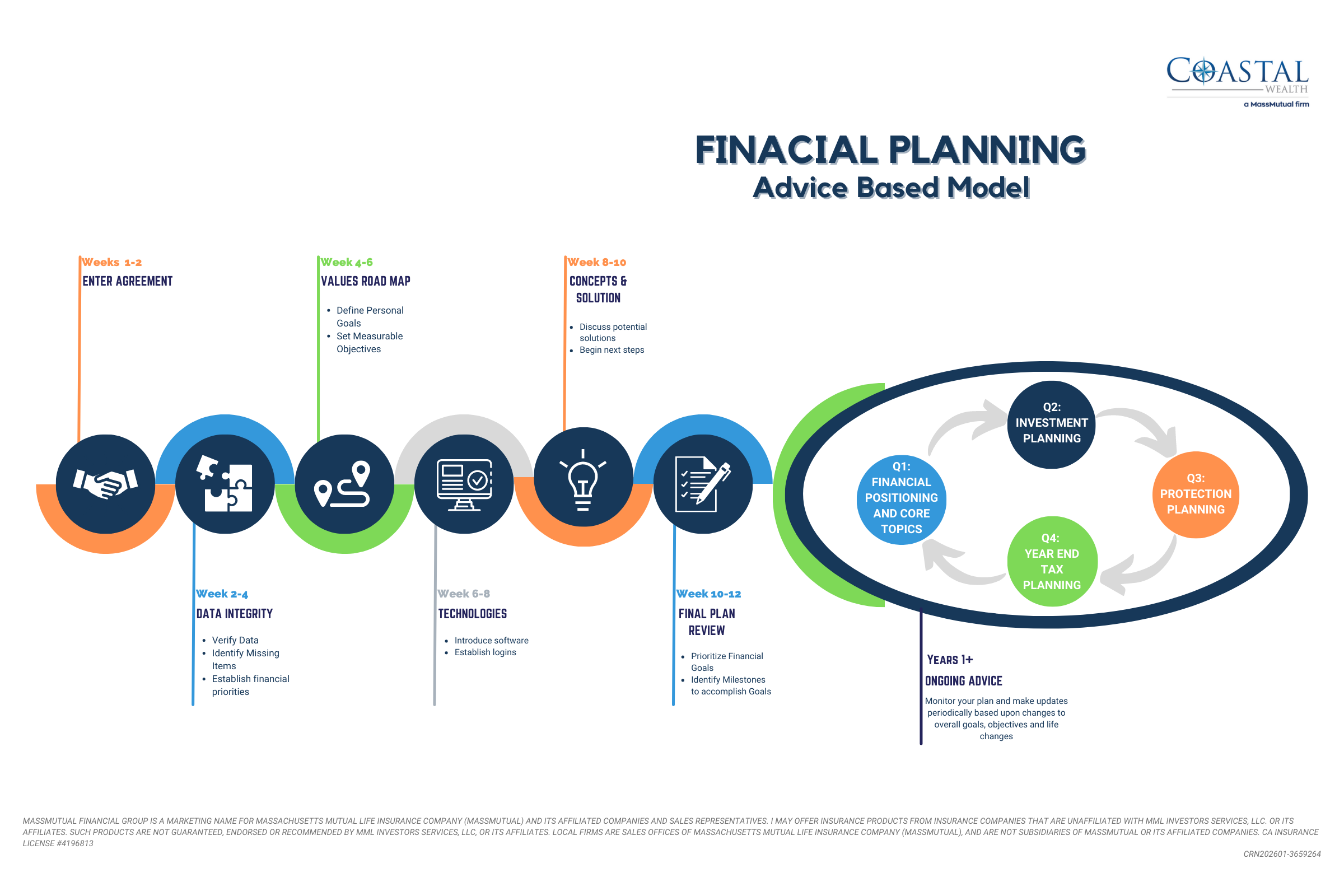 We act like your "personal CFO" (or Certified Financial Officer) by developing strategies to help manage your finances and advising you to make the appropriate decisions. Part of our approach includes addressing 6 key areas (outlined below); we look at your entire financial picture and discuss how your 6 key areas can work together in harmony.
The Six Key Areas of Financial Planning
Recently moved or considering a relocation 
Considering the sale of a major asset like your home, business, or other real estate
Changing jobs
Getting married or divorced
Adding to family through birth or adoption
Loss of a loved one 
Receiving a gift or inheritance 
Reviewing health savings account contributions 
Spending any remaining balance in flexible spending accounts
Reviewing existing life and disability income insurance policies and coverage amounts 
Reviewing assisted living needs for a parent or other family member
Reviewing any long-term care needs
Confirming investment goals and strategies 
Reviewing asset allocation
Revisiting income and savings needs 
Contributing to education accounts 
Establishing a savings plan for a major purchase or expense goal
Income tax strategies
Alternative minimum tax strategies
Capital gain/loss strategies
Social Security
Distribution planning
Funding analysis
Non-qualified plans
Analyzing tax benefits of a Roth IRA conversion
Maximizing 401(k) contribution including catch-up contributions
Maximizing IRA contributions including catch-up contributions
Establishing a retirement plan, if a business owner
Reviewing overall retirement income strategy
Using a trust
Reviewing charitable giving
Reviewing the impact of any new tax laws
Reviewing estate documents (wills, trusts)
Planning for the succession of a business
Analyzing estate tax implications
We want our clients to know we're here to help them no matter what. If you want to know more about how we can help you, schedule an introductory call. 
* Any discussion of taxes is for general information purposes only, does not purport to be complete or cover every situation, and should not be construed as legal, tax, or accounting advice. Estate Planning services are provided working in conjunction with your Estate Planning Attorney, Tax Attorney and/or CPA. Consult them for specific advice on legal and tax matters.